Angel Business Communications via DCS Awards raises £2,100 for GNP Sports Community Football Club

Angel Business Communications Ltd, organisers of the DCS Awards and Publishers of the DCS Magazine are active supporters of local community groups. Our chosen charity organisation for 2022 was GNP Sports Community football club, based in Coventry.

The club has been established since 1983 and now boasts 21 youth football teams, ranging from under 7's to under 16's. The club are also accredited as a Weetabix Wildcats Centre for Girls only football, which has led to the formation of 3 all girl teams for the 2022/2023 season. The club has over 250 junior players, which represents a doubling of participation in the last 3 years.

The DCS Awards are the premier data centre awards and our event took place on May 26th in St Pauls London.

We used the DCS Awards gala evening to help raise funds for the community club, via an online raffle prior to and during the event.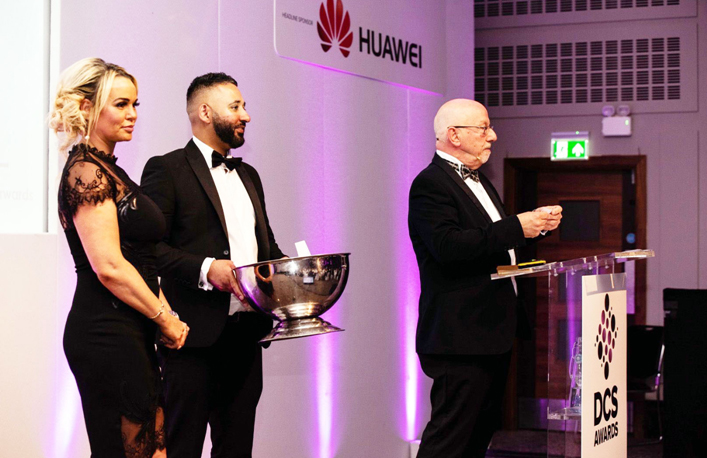 Angel Business Communications CEO Sukhi Bhadal, alongside Senior Sales Executive Leanne Collins, carrying out the raffle draw.
"As a B2B publisher and event organiser, we love using our events to help raise money for worthy causes. We chose GNP Sports Community football club because of the excellent work they do within grassroots football and making football inclusive and accessible for children from all backgrounds. I want to thank the Data Centre community for enthusiastically supporting the raffle and congratulate the 3 lucky winners for winning on the night. I hope the monies raised can help GNP Sports continue the excellent work they do" commented Sukhi Bhadal, CEO of Angel Business Communications.
---
Football Development Officer at GNP Sports FC, Jat Grewal, responded to news of the fundraising.

"We are hugely grateful for the efforts and generosity of Angel Business Communications and everyone at the DCS Awards ceremony for raising such a mind-blowing sum of money for GNP Sports! Financial support for grassroots clubs like ours is not easy to come by, so we are honoured and humbled to be in receipt of this fundraising. We will ensure this is put to good use by securing improved equipment and facilities for our 250 to 300 participating children during the upcoming 2022/23 football season, thus allowing us to extend our reach further and cater to even more children of all backgrounds and abilities in the future. Once again a massive THANK YOU from all of us at GNP Sports!"

Thank you again to all of our entrants, finalists and sponsors for making the DCS Awards 2022 event possible and congratulations to this year's winners

A full report on this year's DCS Awards will be published in the next issue of Data Centre Solutions Magazine.

If you have any questions about the DCS Awards, please get in touch We are already planning for the DCS Awards 2023. Nominations will open in September and the event will take place in May 2023, so look out for the 2023 DCS Awards launching soon, and get your nominations in for some fantastic free PR!